Displaying, editing and printing hypertext for Delphi and C++ Builder

| | |
| --- | --- |
| | TRichView Components |

Components support various character attributes (fonts, subscripts/superscripts, colored text background, custom drawn). Documents can contain tables, pictures, images from imagelists, any Delphi controls. Left, right, center or justify paragraph allignment, custom margins and indents, multilevel bullets and numbering, Unicode, background images, print preview, HTML export, RTF export and import, data-aware versions and more...

RichView Package is completely written in Delphi, and does not use external DLL or ActiveX files. It is not based on Microsoft RichEdit control.

کامپوننت ویرایشگر متن با امکاناتی بالا برای دلفی
What is TRichView
TRichView is a suite of native Delphi/C++Builder components (VCL) for displaying, editing and printing hypertext documents.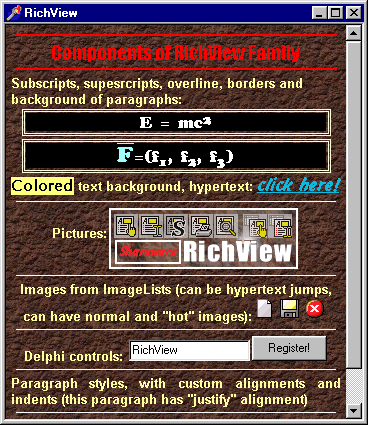 Components support various character attributes (fonts, subscripts/superscripts, colored text background, custom drawn). Documents can contain tables, pictures, images from imagelists, footnotes and endnotes, any Delphi controls. Left, right, center or justify paragraph allignment, custom margins and indents, multilevel bullets and numbering, Unicode, background images, print preview, HTML and DocX export, RTF export and import, data-aware versions and more...
TRichView is completely written in Delphi, it does not use external DLL or ActiveX files. It is not based on Microsoft RichEdit control. A registered version of the Package includes full source code.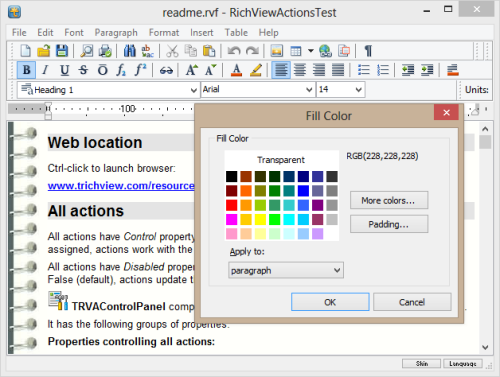 List of Features
Click the links below to read detailed information: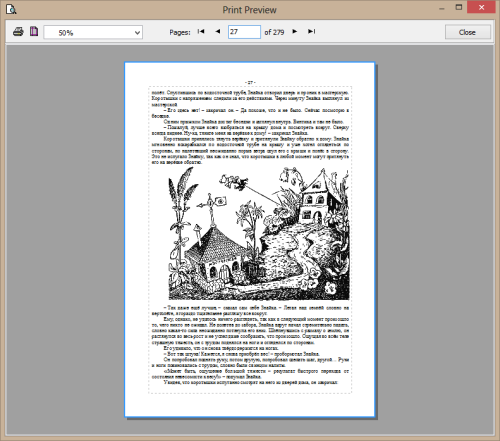 Components in the Package

TRichView — component for displaying hypertext


TRichViewEdit — component for editing hypertext


TRVStyle — collection of [DB]RichView[Edit]s' text and paragraph styles, etc.


TRVPrint — component for printing [DB]RichView[Edit]s


TRVPrintPreview — component for print preview of [DB]RichView[Edit]s


TDBRichView — data-aware version of TRichView


TDBRichViewEdit — data-aware version of TRichViewEdit


TRVOfficeConverter allows using text import and export converters from Microsoft® Office


TRVReportHelper allows drawing RichView documents onto the specified Canvases
Additional Information

Online manual
Password : exirbox.com

Tags : TRichView Components Delphi