ReportBuilder
is the defacto standard for Delphi reporting solutions. Delphi developers have consistently voted ReportBuilder Product of the Year (1999 - 2002) and Best Reporting Tool (1999 - 2003). The genesis of ReportBuilder was the desire to deliver a product that does for Reporting what Delphi has done for Windows programming. In that spirit, ReportBuilder provides both a RAD environment and an object-oriented platform for solving the reporting equation.
Editions |

Professional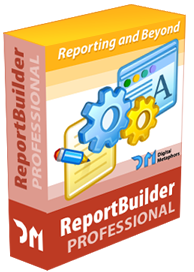 With ReportBuilder Professional, you get everything included in ReportBuilder Standard, plus a set of components that enables end-users to perform the data access, report layout, and report output activities of the reporting equation.
This goal is achieved by delivering visual, easy-to-use solutions.
Data (DADE)
Within the work environment of the Data tab, end users can quickly create dataviews, which can then be used to supply data to reports. Dataviews are usually created via the Query Wizard or Query Designer. Both of these tools are visual; they also allow the end-user to select the tables, fields, search criteria, and sort order necessary for the report. Behind the scenes, an SQL statement is generated and used to retrieve the data from the database. A screen shot of a completed dataview is shown below.

Tags : ReportBuilder Professional