ReportBuilder
is the defacto standard for Delphi reporting solutions. Delphi developers have consistently voted ReportBuilder Product of the Year (1999 - 2002) and Best Reporting Tool (1999 - 2003). The genesis of ReportBuilder was the desire to deliver a product that does for Reporting what Delphi has done for Windows programming. In that spirit, ReportBuilder provides both a RAD environment and an object-oriented platform for solving the reporting equation.
Editions |

Server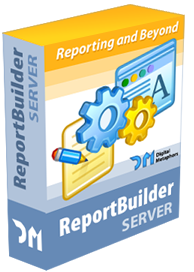 The
Server Edition
makes it easy to create and deploy report applications to the web.

Using basic component configuration you can get a Windows service-based report server application up and running, a web application up and running, and have users previewing reports in a web browser in no time. And you can do it all without having to master multi-threaded programming, Windows Services, Windows Sockets, Windows System Tray applications, COM, I/O Completion Ports/Worker Thread Pools, XML, SOAP Services, ISAPI Thread Pools, XHTML, or JavaScript.
The Server Edition currently includes a single developer license for ReportBuilder Server and a single developer license to ReportBuilder Enterprise. Also included is a Server Deployment license for a single CPU. This enables you to install a report server solution to a single CPU machine. Thus to deploy a server solution to a dual processor machine requires two deployment licenses. A report server can support as many clients as the hardware will allow. In summary, the licensing is per server CPU, not per client seat.

Click here for a Live Demo!

Tags : ReportBuilder Server Delphi