Solar Calendar

Brought to you by:
m-khorsandi (
محمد خرسندی
)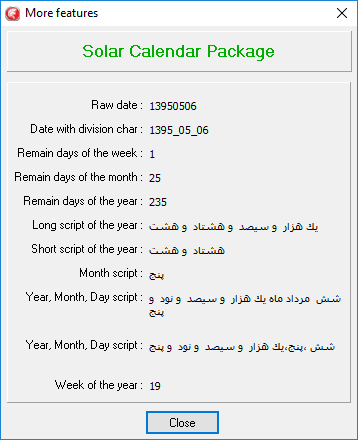 Solar Calendar is a package for Delphi developers and specially for Persian developers. The package has got set of components for showing and selecting Persian / Iranian / Solar / Shamsi / Jalali date in Persian/Shamsi and Christian(gregorian) interface and many more functions.
Support Delphi 7, 2007, 2009, 2010, XE, XE2-XE10.2

Switch between Persian and Christian(gregorian) interface and vice versa.

Dataset connection

Too many functions for working with Date(IncYear, IncMonth, IncDay, DaysBetween, GotoMonth, ConvertDate, ...)

Customizable Interface

Auto Check the date entered

Several events on Change layout, button click,...
ویژگی های:

پشتیبانی از نسخه های D7-

XE10.2

دکمه های ماه قبل/بعد اضافه شده است.

امکان تغییر ماه با استفاده از کلیدهای کنترل + جهتی(چپ و راست)

امکان تغییر ماه با استفاده از کلیدهای Shift + جهتی(چپ و راست)

اصلاح تابع IncMonth و DecMonth

اصلاح تابع IncDay و DecDay

رفع اشکال تابع YMDScript

رفع اشکال تابع GetToDay

عدم وابستگی به نوع و شکل فرمت تاریخ در ویندوز

حذف دکمه های کنار Editbox سال

Tags : Delphi Solar Calendar